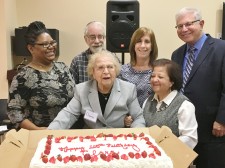 Clara Beckerman Asks Friends and Family to Honor her 100th Birthday by Donating to Non-Profit Organization that Manages her West Orange Senior Living Community
West Orange, N.J., November 21, 2016 (Newswire.com) - Clara Beckerman, a long-time resident of Jewish Federation Plaza in West Orange, recently celebrated her 100th birthday with a simple wish: rather than give her a gift, that her friends and family honor her by donating to the Jewish Community Housing Corporation of Metropolitan New Jersey (JCHC). The non-profit organization owns and manages Jewish Federation Plaza and three other senior living communities in Essex and Morris counties. Beckerman's request is a tribute to the friendships, care, and enriching environment she has enjoyed at the community that she's called home for over 20 years. A significant amount has already been donated in her honor, which will help the JCHC continue to provide enriching programs to its seniors.
"Clara has always been a kind and generous person. She is such an asset to the community," said Ann Marie Bass, site manager of Jewish Federation Plaza. 
Her 100 years notwithstanding, Beckerman participates in a variety of activities at the senior residence and still pursues her lifelong musical interests, playing piano and mandolin every day. She used to play piano for the JCHC Choral Group and she sings with the choir every June at the JCHC's Annual Dinner; she also entertains her fellow residents. In fact, at the party her family threw for her, Beckerman took time out from the festivities to play a few songs on the mandolin for everyone there. She was also presented with a cake at Jewish Federation Plaza and at the JCC MetroWest next door, where she is active in the senior enrichment program—and where she also occasionally plays piano and mandolin for others.
Born on October 23, 1916 in New York City, Beckerman grew up in Plymouth, Pennsylvania, near Wilkes Barre. After high school she went into nursing and while working at Beth Israel Hospital in Newark she met her future husband, Sam Beckerman. They married and moved to Irvington, where they raised their two children. The family was active at Congregation B'nai Israel in Irvington, where Beckerman was a soprano in the choir and sang every Friday night. She attends Shabbat services now at Jewish Federation Plaza.
She enjoyed a long career as a school nurse in the Newark school district and volunteered as a Civil Defense nurse during the Cold War era. When she wanted to work in the schools full time, which required a bachelor's degree, Beckerman went back to college in the 1960s, eventually attaining her B.A. from Jersey City State College (as it was known then) in 1969. She talks with pride about her career as a school nurse.
"I took care of thousands of elementary school children, faculty and staff members in Newark. During the summers, I also worked in the Head Start program caring for the health needs of preschoolers who were entering kindergarten in the fall," she said.
After retiring in the 1980s, Beckerman renewed her interest in music. When she and Sam moved to Jewish Federation Plaza, she found great pleasure in playing not only for herself but for the residents there and the seniors she met through programs at the JCC.
When she's not busy at an activity—trivia games, playing piano and mandolin, or singing—Beckerman enjoys visits from her daughter Phyllis, who lives in West Orange with husband Barry Rodin; son Lou, who lives in Watchung with his wife, Ann; and her grandchildren, Michael and Kim Beckerman and Sara and Josh Lerner (and great-granddaughter, Eliza Sam) who also live in New Jersey.
Beckerman has been looking forward to celebrating her 100th birthday for quite some time. When asked about her longevity and continued engagement in so many activities at her age, she explained that, "I credit my sweet tooth and always having something positive to say to my living a long and fruitful life."
To make a donation to the JCHC in Clara Beckerman's honor, go to http://jchcorp.org/support-us/.  
About the Jewish Community Housing Corporation of Metropolitan New Jersey
Founded in 1983, the Jewish Community Housing Corporation of Metropolitan New Jersey (JCHC) owns and manages more than 470 apartments in four buildings for older adults in Morris and Essex counties in northern New Jersey. The non-profit organization offers seniors a range of options in terms of services, amenities, location, and cost, all within a traditional Jewish environment. The JCHC provides housing, programs, and services for the independent elderly as well as those who need assisted living. For more information, go to www.jchcorp.org.
Source: JCHC
Share: