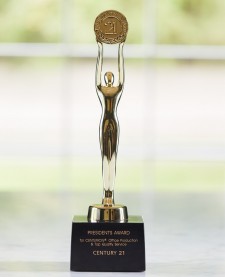 Caldwell, N.J. Real Estate Brokerage is also a CENTURY 21 President's Award Winner, the Top Honor for Production Within the CENTURY 21 System
CALDWELL, N.J., February 12, 2019 (Newswire.com) - John Sass, broker-owner of CENTURY 21 Cedarcrest Realty, in Caldwell, N.J., announced his agency's winners of CENTURY 21® and NJ REALTORS® awards for 2018, based on customer service and gross closed commissions, a sales benchmark in real estate. The winners were announced at the brokerage's annual awards breakfast held at the Hampton Inn in Fairfield in January.
During his opening remarks, Sass reviewed the agency's growth in the 10 years since it opened at the height of the Great Recession. In spite of the severe real estate market downturn at that time, CENTURY 21 Cedarcrest has maintained continued growth year after year; in 2018, the agency increased its sales volume by 23 percent over 2017, exceeding the goal Sass had set for his team. Cedarcrest Realty closed transactions in 57 New Jersey municipalities, ranking Number 9 out of 110 CENTURY 21® offices for sales production in its region, which comprises New Jersey and Delaware.
2018 service award winners
The Quality Service and Top Producer awards from CENTURY 21® will be recognized at the annual Greater New Jersey Brokers Council Gala in March. The Quality Service awards are presented to agents and offices that consistently provide high levels of customer service.
· Quality Service Award – Paula Cano and Susan McGarrity.
· Quality Service Pinnacle Producer Award – for consistently high approval ratings for two or more consecutive years: Tracy Chan, Bruno Marino and Joey Scotto.
· Quality Service Pinnacle Office Award – For the eighth year in a row, CENTURY 21 Cedarcrest Realty won this prestigious award; it is CENTURY 21's top award for service.
2018 production award winners
These are awarded based on real estate agents' gross closed commissions (production) for the year.
· New Jersey REALTORS® (NJR) Circle of Excellence Bronze Award: Nancy Scancarella and Paula Cano
· CENTURY 21 CENTURION® Individual Producer Level Award
o Number 2 in individual gross closed commissions: Yaw "Tracy" Chan. Chan has consistently earned top honors for sales and service at CENTURY 21 Cedarcrest and was recently inducted into the CENTURY 21 CENTURION® Honor Society.
o Number 1 in individual gross closed commissions: Joey Scotto, who has also won multiple awards in less than three years since starting his real estate career at CENTURY 21 Cedarcrest Realty.
Chan and Scotto also both won the NJ REALTORS® (NJR) Circle of Excellence® Gold Award.
· CENTURY 21 Masters Team Level Award – The Rick Lodato Team (Rick Lodato, Lizette Brown and Peter Locurto), who joined Cedarcrest Realty last year. Lodato is also a gold-level award winner from NJR.
· CENTURY 21 President's Award – Sass was most excited to announce that CENTURY 21 Cedarcrest Realty has won this coveted honor for the first time ever. It is given to producers, teams and offices that achieve both CENTURION® level production and the Quality Service Pinnacle Award in the same year.
Additionally, Frank Laratta and Susan McGarrity were recognized for being among the office's top five agents in production last year.
"At the core of our team's success is our agents building positive, long-term relationships with home buyers and sellers," said Sass. "We are also big fans of the real estate technology available to us through the CENTURY 21® system, which my agents use to source and nurture leads more effectively and to better serve their customers. We also provide in-house training and development, with courses offered to agents at all levels of experience, which is helping newer agents build their skills and knowledge while our more experienced agents are refreshing theirs."
For more information about CENTURY 21 Cedarcrest Realty, visit http://www.Century21Cedarcrest.com.
###
About CENTURY 21 Cedarcrest Realty, Inc.
Located in Caldwell, N.J., CENTURY 21 Cedarcrest Realty, Inc. (Cedarcrest Realty) works with property buyers and sellers throughout northern New Jersey, including Morris, Essex, Passaic, and Bergen counties. Under the guidance of broker/owner John Sass, more than 80 real estate agents and REALTORs® work in both residential and commercial real estate. In 2018, CENTURY 21 Cedarcrest Realty was designated a Certified Commercial Specialist by CENTURY 21 Real Estate LLC. The brokerage has won multiple awards for service and production and its agents are among some of the region's top producers.
John Sass joined the CENTURY 21® Real Estate System as a real estate associate in 1983, advanced to management in 1987 and became broker/owner of CENTURY 21 Cedarcrest Realty in 2009. Sass is a licensed broker in the State of New Jersey and a graduate of the REALTOR® Institute (GRI).
Source: Century 21 Cedarcrest Realty
Share: