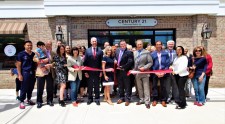 New Location Gives Real Estate Brokerage a Presence in Passaic County; Headquarters is in Caldwell in Essex County
LITTLE FALLS, N.J., May 31, 2019 (Newswire.com) - CENTURY 21 Cedarcrest Realty, Inc., based in Caldwell, New Jersey, celebrated the opening of its second real estate office, located at 44 Main Street, Suite 2 in Little Falls, New Jersey. The grand opening celebration featured a catered networking reception and official ribbon cutting by Little Falls Mayor James Damiano. Among the attendees were real estate agents from CENTURY 21 Cedarcrest and other area brokerages, members of the local business community, and Michael Miedler, president and CEO and Tom O'Hern, vice president of operations, both of CENTURY 21 Real Estate LLC.
The new office gives CENTURY 21 Cedarcrest, which represents residential and commercial customers throughout Northern New Jersey, a presence in Passaic County. The brokerage is owned by John Sass, a lifelong resident of Little Falls, who runs the Cedarcrest Realty operation from the agency's flagship office in Caldwell.
"As someone who grew up here and has made my home in Little Falls all my life, it's great to have an office in the town I know best and to be a part of the downtown revitalization," said Sass. The office is in a new mixed-use building with retail on the street level and 34 apartments above.
Mayor Damiano seconded the sentiment about Little Falls. "It's always great to see another business be part of our growing downtown," he said. "Little Falls is experiencing quite a rebirth and we welcome CENTURY 21 Cedarcrest to our growing list of businesses that make their home here."
CENTURY 21's Miedler noted that, "John and his partner, Lynn DeLuccia, have been so active in the CENTURY 21 system; I'm so happy to see them not only expand their business but to do so in John's hometown and where they make their home." Miedler added that the real estate sector, as a whole, represents 20% of gross domestic product, and real estate transactions bring thousands of dollars back into communities.
Cedarcrest Realty is a multiple-award-winning agency. For 2018, the office won CENTURY 21's CENTURION Office Award, Quality Service Pinnacle Award and coveted President's Award, reflecting total office production and customer satisfaction scores in the region. In addition, CENTURY 21 Cedarcrest has won "Best Realtor" in the annual Best of Essex Readers' Choice Awards four years in a row. The agency is a designated Certified Commercial Specialist by CENTURY 21 Real Estate LLC and has a Fine Homes & Estates division to market distinctive properties. The office also has a long-time commitment to many community outreach and charitable programs.
For more information about CENTURY 21 Cedarcrest Realty, visit http://www.Century21Cedarcrest.com.
About CENTURY 21 Cedarcrest Realty, Inc.
Headquartered in Caldwell, New Jersey, CENTURY 21 Cedarcrest Realty, Inc. (Cedarcrest Realty) works with property buyers and sellers throughout Northern New Jersey, including Bergen, Essex, Hudson, Morris and Passaic counties. Under the guidance of broker/owner John Sass, 70+ real estate agents and REALTORS® work in both residential and commercial real estate. In 2018, CENTURY 21 Cedarcrest Realty was designated a Certified Commercial Specialist by CENTURY 21 Real Estate LLC. The brokerage has won multiple CENTURY 21® awards for service and production and its agents are some of the region's top producers. It opened a second location in Little Falls, New Jersey in 2019.
John Sass joined the CENTURY 21® Real Estate System as a real estate associate in 1983, advanced to management in 1987 and became broker/owner of CENTURY 21 Cedarcrest Realty in 2009. Sass is a licensed broker in the State of New Jersey and a graduate of the REALTOR® Institute (GRI).
Source: CENTURY 21 Cedarcrest Realty
Share: