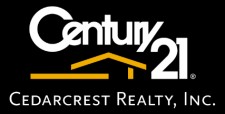 Caldwell Real Estate Office is Helping to Brighten Holidays for Underprivileged Children with Annual Toy Drive; Encourages Area Residents to Help Support Needy Families
Caldwell, N.J., November 9, 2017 (Newswire.com) - Century 21 Cedarcrest Realty, Inc., a real estate agency in Caldwell, N.J., is a host site for the U.S. Marines' annual Toys for Tots toy and fund drive. This is the 10th year in a row that Century 21 Cedarcrest is supporting the charitable effort.
Area residents are encouraged to drop off new, boxed and unwrapped toys and games at the Century 21 Cedarcrest Realty office, located at 460 Bloomfield Avenue until December 18, 2017 between the hours of 9:00 a.m. and 7:00 p.m., Monday through Friday and on weekends from 9:00 a.m. to 5:00 p.m. The donated toys and games will be given to the Marines at the official drop-off site in Dover on December 19.
All donated items will be distributed to Essex County non-profit organizations that serve less fortunate families and children. The recipients range in age from babies to teens.
The objectives of Toys for Tots are to help less fortunate children throughout the United States experience the joy of Christmas; to play an active role in the development of one of our nation's most valuable resources – our children; to unite all members of local communities in a common cause for three months each year during the annual toy collection and distribution campaign; and to contribute to better communities in the future.
"My associates and I are committed to helping others in the communities we serve and are honored to work with Toys for Tots once again," said John Sass, broker owner of Century 21 Cedarcrest Realty.  "In addition to toys and games for children of all ages, we also encourage our neighbors to consider giving a monetary donation on the Toys for Tots website." Anyone wishing to make a financial donation may do so at www.toysfortots.org.
In addition to Toys for Tots, Century 21 Cedarcrest Realty also supports the Easter Seals by participating every year in that organization's 5K walk/run fundraising event.
Sales associate Corinne Pezzino is coordinating the agency's Toys for Tots program this year; for more information about what to donate, contact her at Corinne.pezzino@century21.com or call the office at (973) 228-1050, ext. 142. For more information about Century 21 Cedarcrest Realty, visit http://century21cedarcrest.com/.
###
About Century 21 Cedarcrest Realty, Inc.
Located in Caldwell, N.J., Century 21 Cedarcrest Realty, Inc. (Cedarcrest Realty) works with property buyers and sellers throughout northern New Jersey, including Morris, Essex, Passaic, and Bergen counties. Under the guidance of broker/owner John Sass, more than 50 real estate agents and REALTORs® work in both residential and commercial real estate. Sass joined the CENTURY 21® Real Estate System as a real estate associate in 1983, and advanced to Management in 1987. He is a licensed broker in the State of New Jersey, as well as a graduate of the REALTOR® Institute (GRI).
Source: Century 21 Cedarcrest Realty
Share: