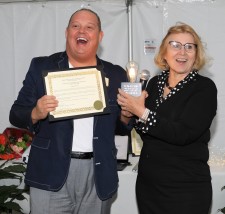 Over 200 Professionals Attended Event; Five Were Recognized for Their Contributions to Person-Centered Care and to Longtree Professionals
MIDDLETOWN, N.J., November 6, 2019 (Newswire.com) - ​Patrick and Laurie Loughney, co-founders of Longtree & Associates, LLC (Longtree) in Middletown, NJ, celebrated their company's 20th anniversary at a special event themed "Raising the Bar in Health Care Together" on October 24. Over 200 social workers, case managers and administrators from the spectrum of care environments attended. It was held at co-sponsor Brookhaven Center for Rehabilitation and Healthcare in East Orange.
Attendees enjoyed networking, food, entertainment, continuing education seminars and a panel discussion.
"We are honored that so many of our colleagues, partners and former students came to celebrate this milestone with us," said Laurie Loughney, CEO of Longtree. "Their longstanding support has helped us reach this anniversary and drives our continual development of meaningful, relevant CE seminars and medical education workshops that advance careers in health care."
Loughney presented awards of appreciation to:
Executive of Excellence – Chris Slavicek, VP of sales & marketing, Chelsea Senior Living in Fanwood, for his mentorship, leadership, caring and professionalism.
Heart of Health Award – Delretha DeVose, patient relations manager, Serenity Hospice in Newark, for her exceptional commitment to patient care, professionalism and mentorship.
Community of Excellence Award – Atrium Senior Living of Matawan, for its contributions as a Longtree teaching incubator; accepted by Exec. Dir. Heather Stockman, LNHA.
Mentors of Excellence – Ahron Lieberman, LNHA, director of operations and Ben Kurland, owner, Allaire Health Services.
The CE seminars encompassed long-term care marketing and community liaison work; a workshop on alternative pain management techniques through yoga, guided imagery and aromatherapy; elder scams; and the new patient-driven payment model of health care reimbursement for Medicare patients.
The panel discussion covered the trajectory of health care changes, the importance of long-term care to adapt to changing patient needs and regulatory requirements, and improving elder care by focusing on the frontline professionals who provide direct care for the elderly. Panelists were Dameon Fletcher, VP of operations for Erickson Living, Catonsville, Md; Shlomo Friedman, VP of operations for Paramount Care Centers; and Longtree LNHA graduate, Addy Adedon, administrator of Little Brook Nursing Home in Califon.
More information about Longtree & Associates' medical education courses and CE workshops and seminars is available at www.longtreeeducation.com.
Longtree & Associates specializes in educational seminars and workshops for those in the long-term care and elder care fields. Its courses provide CE credits, critical training, and recognized certifications for health care professionals and managers, and employees seeking to enhance their skills in a range of care environments. Courses are available for RNs, nursing aides, certified assisted living administrators, licensed nursing home administrators, social workers, and activity directors. The curricula meet all training requirements established by the State of New Jersey. For more information, visit www.longtreeeducation.com or call (732) 757-9955.
Source: Longtree & Associates
Share: