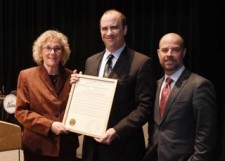 Silver Anniversary Event Also Highlights Importance of Affordable Housing Initiatives for Seniors
SOUTH ORANGE, N.J., December 22, 2017 (Newswire.com) - On Dec. 11, the Jewish Community Housing Corporation of Metropolitan New Jersey (JCHC) celebrated the silver anniversary of South Orange B'nai B'rith Federation House at an event that included local politicians, representatives from B'nai B'rith International and LeadingAge New Jersey, the JCHC Board of Trustees  and residents and staff of the senior living community. The celebration was held at South Orange Performing Arts Center in the Township of South Orange Village, New Jersey.
Kicking off the event and welcoming the audience of more than 100 attendees was Brian Saltzman, President of the JCHC Board of Trustees. He was followed by Patricia Sebold of the Essex County Board of Chosen Freeholders, who presented Saltzman and CEO Harold Colton-Max with a proclamation on behalf of the Freeholder Board. The JCHC also received a joint resolution from the New Jersey Senate and Assembly in commemoration of the event
Both documents addressed the important role the senior living community has played in the lives of South Orange's senior citizens. It was noted the South Orange B'nai B'rith Federation House is just one of four senior living communities owned and managed by the JCHC in Essex and Morris counties. It offers independent living with on-site services and programs for adults ages 62 and older.
During the Township of South Orange Village Board of Trustees Meeting, Village President Sheena Collum recognized Colton-Max for his leadership beyond the JCHC. "He embodies all the qualities of a compassionate and dedicated community volunteer known throughout South Orange," she said. "He is the Chairman of our Planning Board, helped us launch our Two-Towns for All Ages initiative to attract and retain senior citizens (and) is a staunch advocate for affordable housing. Tonight, we celebrate him as well."
The event also shone the light on the importance and success of affordable housing initiatives for the elderly. South Orange B'nai B'rith Federation House and Jewish Federation Plaza in West Orange offer affordable HUD subsidies for the elderly and disabled who qualify. Evan Carmen, Assistant Director of Aging Policy for B'nai B'rith International, spoke to attendees about Save HUD 202, the movement to preserve HUD subsidies for affordable housing. HUD 202 refers to the Department of Housing and Urban Development's Section 202 Housing for the Elderly program, which brings affordable housing with service coordination to almost 400,000 low-income older adults nationwide.
"The program is especially important in New Jersey, where we already have a shortage of affordable housing and choices are limited," noted Hillary Critelli of LeadingAge New Jersey, a statewide membership association for nonprofits providing residential and/or other services to senior citizens. Critelli also congratulated the staff and residents of the South Orange B'nai B'rith Federation House on reaching the 25-year milestone.
Long-time resident SOBBFH Lavinia Walker, who is President of the community's tenant association, shared her perspective on the benefits of living in a senior community and how much B'nai B'rith Federation House has meant to her since moving there in 1993. Afterwards, residents and staff enjoyed a private dinner.
"We look forward to providing many more years of high-quality senior housing at the South Orange B'nai B'rith Federation House and our other communities for the next quarter century and beyond," said Colton-Max. "Our seniors play a vital role in the continuing improvement of services for seniors in South Orange and are role models for what a vibrant and engaged retirement looks like."
For more information about the JCHC senior living communities, visit www.jchcorp.org.
Source: Jewish Community Housing Corporation of Metropolitan New Jersey
Share: