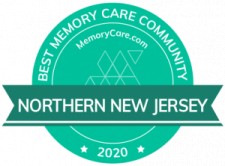 Whippany, N.J. Senior Living Community Offers Person-Centered Dementia Care, Accredited by Industry Leader Comfort Matters®
WHIPPANY, N.J., March 4, 2020 (Newswire.com) - Lester Senior Living, a distinctive senior living community in Whippany, N.J., was recently named to MemoryCare.com's "Best Memory Care Facilities in Northern New Jersey." The community is owned and managed by the Jewish Community Housing Corporation of Metropolitan New Jersey (JCHC).
The guide identifies 14 memory care communities based on location, access to experts, facility features and amenities. Lester Senior Living offers person-centered memory care in its Weston Assisted Living Residence, which is accredited by Comfort Matters®, a leader in dementia care with a nationally recognized best practices accreditation process.
Lester Senior Living's intimate Memory Care Suite supports residents with an integrated approach that includes personalized attention, enriching activities, and services that emphasize dignity and comfort, and help delay or halt cognitive decline. Families enjoy peace of mind while their loved ones receive care in a safe, secure environment carefully designed to meet their needs.
MemoryCare.com is a comprehensive resource for caregivers and older adults living with memory impairment. Its "best of" list, compiled through hours of research and an intensive selection process, is designed to help caregivers find effective solutions for their loved ones who require dementia care. The website highlights the best facilities by area, with information about cost, reviews from residents, type of care offered and more. The detailed listing is at https://www.memorycare.com/northern-new-jersey-nj-facilities/.
"Our team's individualized care planning and the life-enriching experiences they provide makes such a difference in our residents' lives," said Harold Colton-Max, CEO of the JCHC, which also owns and manages three other senior communities in northern New Jersey. "The holistic approach to dementia care provides for our seniors' greater well-being at every stage, and we are honored that our community of caring has been recognized by MemoryCare.com."
For more information about Lester Senior Living's Memory Care Suite, its assisted living and independent living options, or the JCHC's other independent living retirement communities, visit www.jchcorp.org.
About the Jewish Community Housing Corporation of Metropolitan New Jersey
Founded in 1983, the Jewish Community Housing Corporation of Metropolitan New Jersey (JCHC) owns and manages more than 470 apartments in four buildings for older adults in Morris and Essex counties in northern New Jersey. The non-profit organization offers seniors a range of options in terms of services, amenities, location and cost, all within a traditional Jewish environment. The JCHC provides housing, programs and services for the independent elderly as well as those who need assisted living and memory care. For more information, go to www.jchcorp.org.
Source: Jewish Community Housing Corporation
Share: