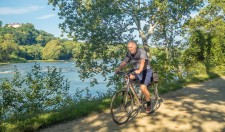 Patrick Loughney's 70-700 Victory Ride Celebrates 5 Years in Remission, 70th Birthday; Highlights Importance of Fitness During Treatment
Middletown, NJ, October 6, 2016 (Newswire.com) - Patrick Loughney counted his blessings last November when he turned 70 years old, having made it to the milestone birthday after surgery and treatments for lung cancer, with which he was diagnosed several years before. This fall, he got more good news: reaching the five-year mark in remission from the disease.
To celebrate the milestone, Loughney, president of Longtree & Associates, a health care education company in Middletown, celebrated by biking 700 miles on a "70-700 Victory Ride"; the trip raised funds for programs to benefit cancer patients and their families at Monmouth Medical Center in Long Branch, N.J., where he was treated.
An outdoor recreation enthusiast, Loughney had always been physically fit and active. He ramped up a vigorous exercise regimen during chemotherapy treatments to lose weight and improve his lung capacity, as well as improve his overall well-being. He credits his cycling with his pain-free and relatively swift recovery from lung cancer and as a key component of his positive outlook during recovery.
"In spite of being a private person, I wanted to share my story," said Loughney. "If it helps one person going through any type of traumatic illness or injury, it would be a great honor to me." He acknowledged that patients might feel overwhelmed and hopeless, adding that, "I was afraid I would never be able to do the things I really enjoyed again. But today, a cancer diagnosis is not the end of the world, and exercise not only helped my physical recovery but helped me cope mentally and emotionally with my disease."
Loughney stressed how more older adults are getting into bicycling and encourages everyone at any age to stay active—whether with cycling, golfing, walking, swimming and so on—even if modifications are necessary. "The sense of well-being, that your life is not over, really helps you maintain a positive attitude," he said. "Staying active helps you focus on getting better and in my case, I met so many interesting people and saw many interesting sites while on the trail."
His oncologist, Dr. Ian Horkheimer of Regional Cancer Care Associates in Little Silver, N.J., noted that Loughney's bicycle rides were an important part of his recovery.
"Exercise is helpful for both the body and the mind, and from a medical perspective, studies have confirmed that patients that remain active during cancer treatment tend to have better outcomes. Patrick was able to exercise during his treatment and took his cycling to another level since completing chemotherapy; his dedication and resolve are inspiring."
700 miles of historic landmarks and natural beauty
Loughney's journey took him round trip from Cumberland, Md. to Pittsburgh, Penn. and back on the Great Allegheny Trail and along the C&O Canal, then on to Washington, D.C. for the final leg. The total trip took two weeks, from August 31 to September 14, 2016. He was joined on parts of the route by friends and family that rode with him or cheered him on from the support vehicle. A map of the route is at https://gaptrail.org/explore
Before riding to Washington, Loughney, friends and family honored his milestone event with a celebratory dinner and overnight stay at the historic Lockhouse 28 on the C&O Canal, near Point of Rocks, Md. on September 10. People followed his progress on his "Cancer Survivor 70-700 Mile Bicycle Tour" Facebook page that tracked his activities, including photos, videos, and travelogue notes about sites he visited.
Loughney's company is donating one dollar for every mile ridden to the Monmouth Medical Center Foundation at Monmouth Medical Center in Long Branch, N.J., where he was treated. Anyone interested in supporting the hospital in his honor can go https://give.everydayhero.com/us/patrick-loughney-s-70-700-victory-ride.
Source: Longtree & Associates
Share: