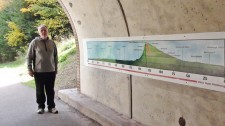 The 70-700 Victory Ride Celebrates Patrick Loughney's Five Years in Remission and Having Marked his 70th Birthday; Highlights Importance of Fitness During Cancer Treatment and as Critical Component to Recovery
Middletown, N.J., September 1, 2016 (Newswire.com) - Patrick Loughney, president of Longtree & Associates, a medical education company based in Middletown, N.J., has not only reached his 70th birthday but is also marking five years in remission after a lung cancer diagnosis. In celebration, he has embarked on a "70-700 Victory Ride" along the Great Allegheny Passage and the Cumberland & Ohio (C&O) Canal to raise funds for programs to benefit cancer patients at Monmouth Medical Center in Long Branch, N.J.  Loughney was treated for his cancer there.
Loughney is biking round trip from Cumberland, Md. to Pittsburgh, Penn., then on to Washington, D.C. and back for the final leg of his journey. He pushed off on August 31 at the head of the Great Allegheny Passage in Cumberland and plans to celebrate with friends, family and fellow riders at the historic Lockhouse 28 near Point of Rocks, Md. on September 10 before finishing. He is accepting fellow riders to join him to ride and raise money for the Monmouth Medical Center Foundation. To view the route at https://gaptrail.org/explore
Celebrating his 70th birthday last November was special enough, having been diagnosed with lung cancer several years before. Now, with his five-year anniversary of being cancer free, he hopes to raise funds as well as awareness of the importance of exercise with his fundraising bicycle tour.  An outdoor recreation enthusiast, Loughney credits his cycling for his pain-free and relatively swift recovery from lung cancer, and as a key component of his positive outlook during recovery.
His company, Longtree & Associates, will donate one dollar for every mile ridden on the 70-700 Tour; Loughney is working with the hospital's foundation to get the official fundraiser set up for those who wish to donate to the cause. Proceeds will benefit cancer patients and their families who are treated at Monmouth Medical Center. Other riders are invited to participate at any point during the 700-mile ride for fun or as a fundraiser.
 A page to chronicle the event is set up on Facebook: https://www.facebook.com/events/113843445730511/
Photo, broadcast and interview opportunities will be available with Loughney at Lockhouse 28 in Point of Rocks, Md. or by advance arrangement along the ride route; contact Laurie Loughney at 848-218-1320 or ploughney[at]aol[dot]com for details of the bicycle ride schedule.
Source: Longtree & Associates
Share: