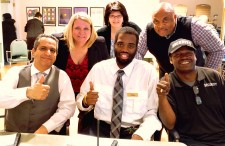 Senior Living Community will Offer "Person-Centered Care" in an Intimate Setting with Health Care Professionals Specially Trained through Nationally Recognized Accreditation Process
Whippany, NJ, March 6, 2017 (Newswire.com) - Older adults with memory loss will soon be cared for with dignity and compassion at The Memory Care Suite at the Lester Senior Housing Community. Projected to open in early April, the Memory Care Suite will occupy the third floor of the community's Josh and Judy Weston Assisted Living Residence. There will be 12 apartments with community spaces designed for optimum comfort of the residents. The suite will accept adults ages 62 and older with Alzheimer's and other dementia-related diagnoses.
"As the senior population lives longer and dementia diagnoses grow within this group, we felt it was important to meet the needs of our current residents as well as those in the wider community by creating The Memory Care Suite," said Harold Colton-Max, CEO of the Jewish Community Housing Corporation of Metropolitan New Jersey (JCHC), the non-profit organization that owns and manages the Lester Senior Housing Community. "We are proud of the space we are creating, which is designed with many environmental supports to provide a high-quality, resident-focused setting."
It is so refreshing to see a personhood model with so much compassion. It was clear that Comfort Matters has a passion for bringing love into the memory care environment.

David Rozen, Marketing and admissions coordinator, Lester Senior Housing Community
Alzheimer's disease affects one in nine Americans over age 65 and currently 5.3 million Americans live with the disease. Additional statistics regarding Alzheimer's and other dementias include:
One-third of Americans over age 85 are afflicted with the illness. (Alzheimer's Association)
In 2016, the 85-years-and-older population included about 2 million people with Alzheimer's disease, or 40% of all people with Alzheimer's age 65 and older. (Alzheimer's Association)
When the first wave of baby boomers reaches age 85 (in 2031), it is projected that more than 3 million people age 85 and older will have Alzheimer's. (Alzheimer's Association)
One in three seniors die with Alzheimer's or another kind of dementia. (Centers for Disease Control)
Person-centered care
The Memory Care Suite at Lester will have comfortable and light-filled living spaces, including lounges, a dining room with country kitchen and a landscaped patio with water features and greenery. As safety and security are of paramount importance for all our residents, there will be a centrally located care manager station and an elopement prevention monitoring system.
The design and approach to the area is dedicated to providing person-centered care, which provides for each resident's particular needs and comfort at all times. Individualized care planning focuses on life-enriching experiences that foster independence and happiness. This holistic approach also provides opportunities for family and social connections that enhance residents' overall health and well-being which aligns with the JCHC's "community of caring" philosophy.
"Our team of nursing professionals and caregivers is committed to providing our residents with specialized and compassionate care while providing the dignity they deserve," said Colton-Max.
The staff is being specially trained through a nationally recognized best practices accreditation process; its integrated approach is aimed at improving quality of care and quality of life for persons with dementia.
For more information about the Memory Care Suite at Lester, contact David Rozen at (973) 929-2725 davidr@jchcorp.org. For information about all four of the JCHC's senior communities in Essex and Morris counties, visit www.jchcorp.org.
Source: Memory Care Suite at Lester
Share: