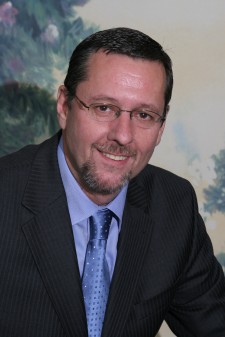 Scott Mackin Returns to Office where He Began his Real Estate Career, Sets Goal of Becoming a Top Producer
Caldwell, NJ, January 25, 2017 (Newswire.com) - ​​For nearly 14 years, Scott Mackin, the former owner/manager of Bangkok Kitchen in Caldwell, looked out at Century 21 Cedarcrest Realty from his establishment on Bloomfield Avenue. After many years and countless hours dealing with the rigors of the restaurant business, he was thinking of a career change, and real estate was looking right back at him from across the street.
"Owning and managing a restaurant, working 12 hours a day, seven days a week, take a toll on you, and as much as I loved it, it was time to get out," said Mackin, a resident of Cedar Grove. "I went in to talk to John Sass at Century 21 Cedarcrest and knew real estate was a great fit for me."
That was in 2007, when Mackin joined Century 21 Cedarcrest and got his start in the real estate field. He held on to Bangkok Kitchen, building his real estate credentials and clientele—many who were long-time restaurant patrons—part time. He sold the restaurant in September 2015 and, curious about other opportunities in the northern New Jersey market, he moved to another real estate agency full time a few months later. After one year there, he knew—just as he knew when it was time for a career change—that Century 21 Cedarcrest was really where he belonged.
Between his real estate savvy, professionalism, and his work in the community, we're delighted that Scott is back on our team,
"It's a wonderful office with a great group of people and a very positive atmosphere," said Mackin of the Century 21 Cedarcrest team. "Although it was flattering to have another agency seek me out to grow with them, I knew I'd left something good behind."
As luck would have it, broker/owner John Sass contacted Mackin in December to see how things were going and to let him know he was hiring to keep up with his office's growing demand. Mackin decided to come home to where he'd gotten his start.
"Century 21 Cedarcrest was my first office and now my last. It's run very well and I'm glad to be back," said Mackin, who is a member of the National Association of Realtors, the NJ Association of Realtors, and a co- founder of Family Helping Families of West Essex.
Mackin represents listings primarily in Essex County and Passaic County although, as with many agents in the busy office, he sells homes throughout northern New Jersey. He works a lot with first-time home buyers and represents buyers and sellers of single-family homes, condos, and townhouses as well as some commercial properties in Essex County. With his full-time commitment to real estate, he is setting his sights on becoming one of Century 21 Cedarcrest's top producers … and still signing contracts at a favorite table at Bangkok Kitchen.
"Between his real estate savvy, professionalism, and his work in the community, we're delighted that Scott is back on our team," said John Sass. "I'm personally pleased that I can once again use the tag line I coined for him when he started here in 2007: List with Mackin and start packin'. It was true then and it's true today."
Century 21 Cedarcrest Realty is located at 460 Bloomfield Avenue in Caldwell, N.J. It has been named "Best Realtor" in the Suburban Essex Best of Essex Readers' Choice Awards two years in a row, and has won multiple sales and service awards from the Century 21 system and J.D. Power & Associates. For more information, visit www.Century21Cedarcrest.com
About Century 21 Cedarcrest Realty, Inc.
Located in Caldwell, N.J., Century 21 Cedarcrest Realty, Inc. (Cedarcrest Realty) works with property buyers and sellers throughout northern New Jersey, including Morris, Essex, Passaic, and Bergen counties. Under the guidance of broker/owner John Sass, nearly 60 real estate agents and REALTORs® work in both residential and commercial real estate. Sass joined the CENTURY 21® Real Estate System as a real estate associate in 1983, and advanced to Management in 1987. He is a licensed broker in the State of New Jersey, as well as a graduate of the REALTOR® Institute (GRI).
Source: Century 21 Cedarcrest Realty